Guidance, calculations and tools assisting with flight procedure design covering ICAO PANS-OPS and FAA TERPS criterias
FPAssistant Toolset
FPAssistant is an app created to form a suite of tools to assist with your aviation flight procedure design work covering both ICAO PANS-OPS and FAA TERPS criteria's; FPAssistant is ideal to use in conjunction with any existing procedure design software product to concur calculations, help with design considerations and assist in the validation of procedure design software. In-app extensions† cover more procedure design advanced calculations, techniques and enhanced criteria tools for both ICAO PANS-OPS and FAA TERPS.
† In-app extensions are available on a term based license with a trial option where possible so you can try before you buy.
Aerodrome Map Tool
This tool provides a free form text search with auto complete feature to look up an aerodrome and then zoom centre to the ARP coordinate.
Geographical Coordinate Math Tools
Theses tools allow the user to perform useful calculations when dealing with geographical coordinate such as Latitude and Longitude; these are based on the WGS-84 ellipsoid model and can be entered as DMS or Decimal DMS.
Key features include:
Compute the lat/long coordinate from a base point, bearing and distance

Compute the azimuth and distance between two known lat/long coordinates

Computer the intersection of two geographical lines

Convert between UTM and WGS-84 coordinates

Test cases from ICAO and FAA used to validation
Distance Conversion
Simple unit conversion for common aviation units covering linear distances – Nautical Miles (NM), Kilometres (km), Metres (m) and Feet (ft).
Gradient Conversion
A simple tool that allows the user to decide which parameter to calculate based on the other two parameters.
True Air Speed Computation
Calculate the True Air Speed (TAS) from a set of changeable parameters starting with the Indicated Air Speed (IAS), interim calculation are also displayed. A graph is also displayed showing a variance of 10% each way of the altitude value.
FAS Data Block Extension with optional Data Store
Encode and create the SBAS FAS Data Block (DB) binary file from the set of required user parameters with an option to decode the bin file. In-app purchases offer support for GBAS and also a cloud data store for the FAS DB parameters for easy retrieval and use over and over again
Basic ICAO PANS-OPS Tools (Free)
Minimum Length of RNAV Segment Tools
For each waypoint a minimum stabilization distance is determined and for successive waypoints, the minimum distance between them is the sum of both minimum stabilization distances. These tools offer a graph showing the stablization distance drawn against airspeed (Image A) and distance and also an overall segment length with two waypoints (Image B).
Basic ILS Surfaces
These are a set of 3D surfaces which cover the area required for a precision segment, they are created on the user input of some parameters; the surfaces are considered to correspond to a subset of that of Annex 14 obstacle limitation surfaces as specified for precision approach runway code numbers 3 and 4.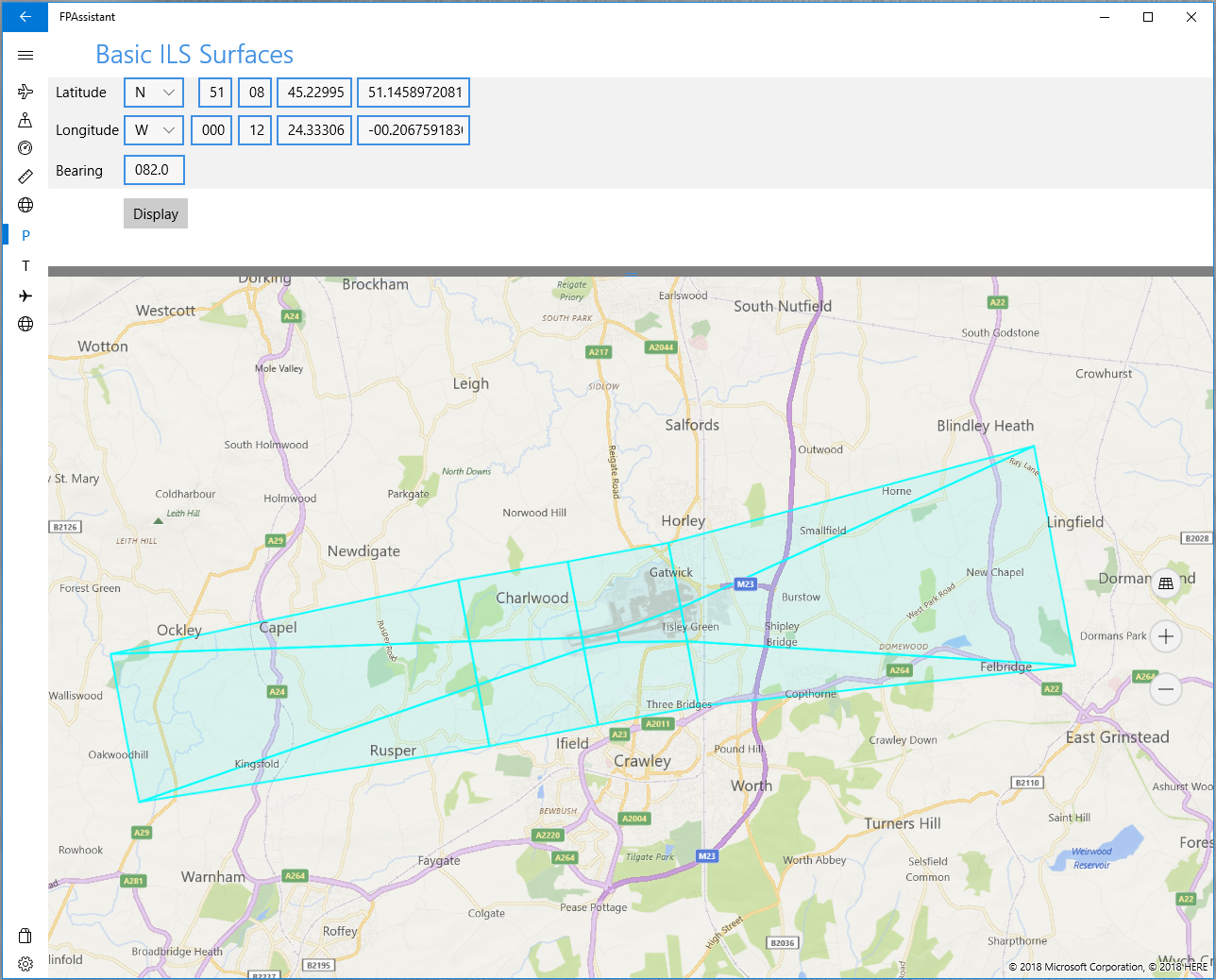 Advanced ICAO PANS-OPS Tools (In-App Purchase)
OAS Constants Table
Taken from the older version of Doc. 8168 here is a tabular version of the OAS constants (old green pages) displayed using parameter selection.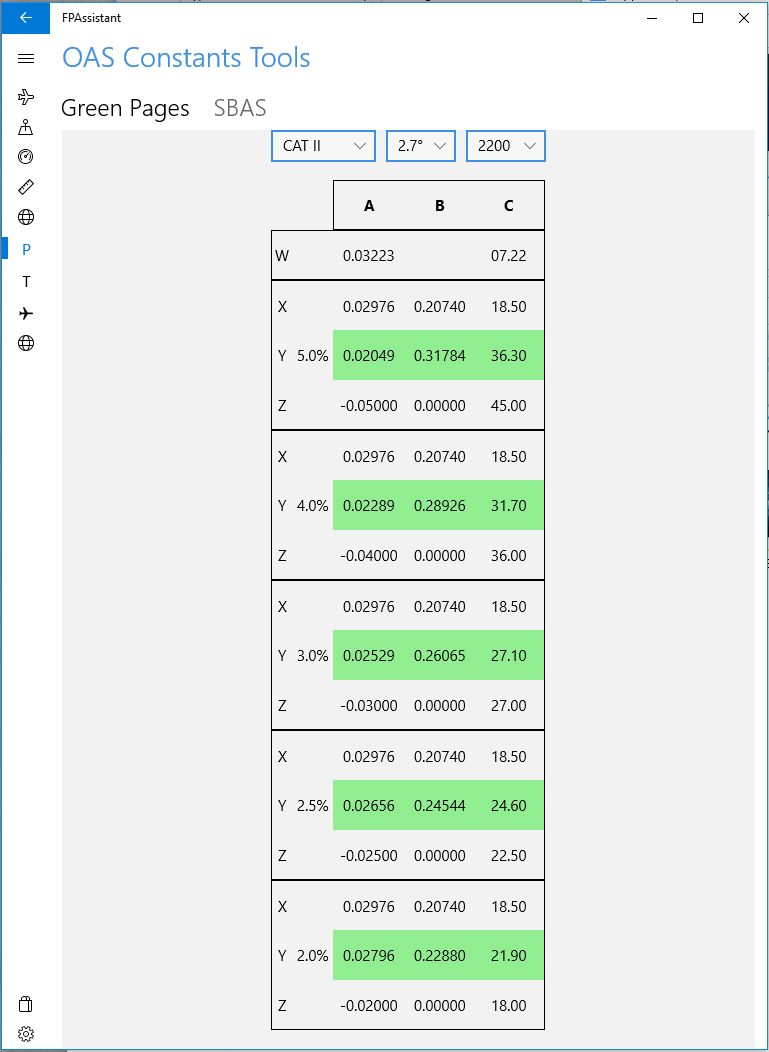 Coming Soon
SBAS OAS Constants – Magnetic Variation.
Basic FAA TERPS Tools (Free)
Maximum Descent Gradient (ft/NM) – Minimum Deceleration Distance (NM)
Tools to calculate DGmax and DD from FAA Order 8260 3C.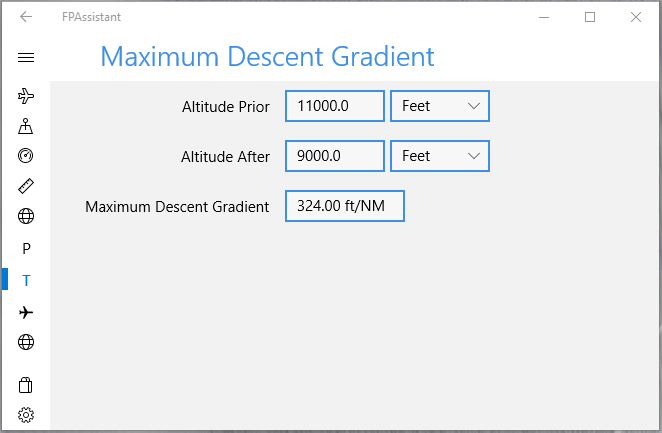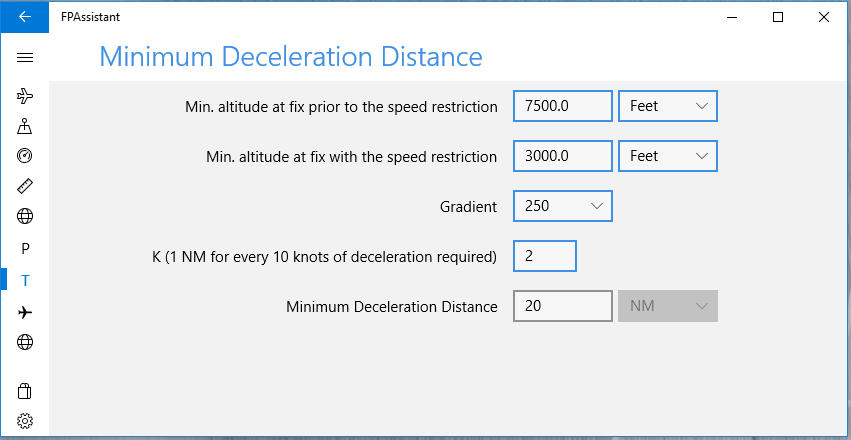 Advanced FAA Terps Tools (In-App Purchase) – Expected soon